CD pladen Live at the HALE BOPP INN med bl.a. Liv Skotte, er indspillet på Sveriges
ældste pensionat i 1997.
Alebo Pensionat ligger i Unnaryd på grænsen mellem Halland og Småland.

I "fodenden" af pensionatets grund finder man den 18 km lange sø Unnen.
Den har leveret megen inspiration til musikken på HALE BOPP INN og endog fået
sit eget nummer - en pianosolo med Jan Overgaard.


Musikerne:
Jan Overgaard

Krølle Erik Andersen

Morten Wittrock

Björn Linder

Stina Andersson (skoleprojekt)
Læs om musikerne under rubriken "Cover"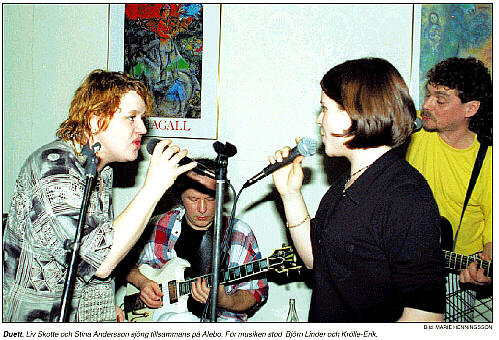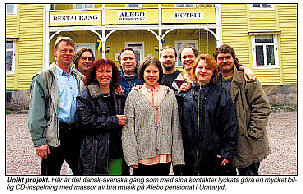 CD skiven samt kontaktoplysninger: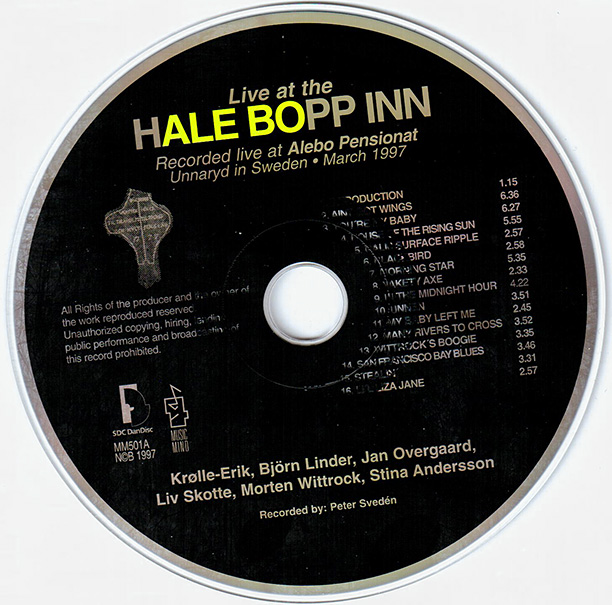 Et mindre lager af Live at the Hale Bopp Inn findes på Alebo Pensionat.
Ved interesse - kontakt Erik Dich på erik.dich@alebo.se
Bemærk: Alle informationer er fra udgivelsen 1997
Cover forside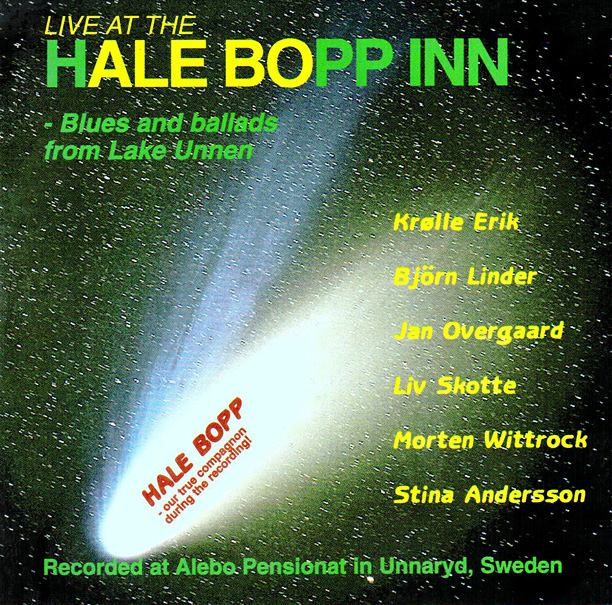 Cover side 2 - Björn Linder - Peter Svedén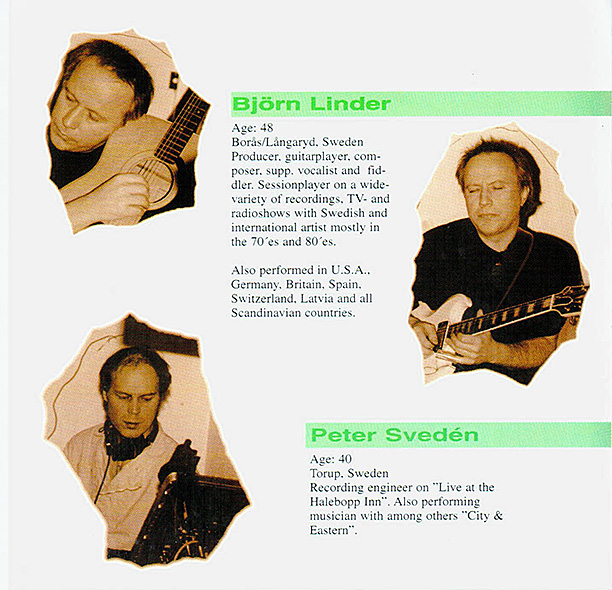 Cover side 3 - Krølle Erik - Morten Wittrock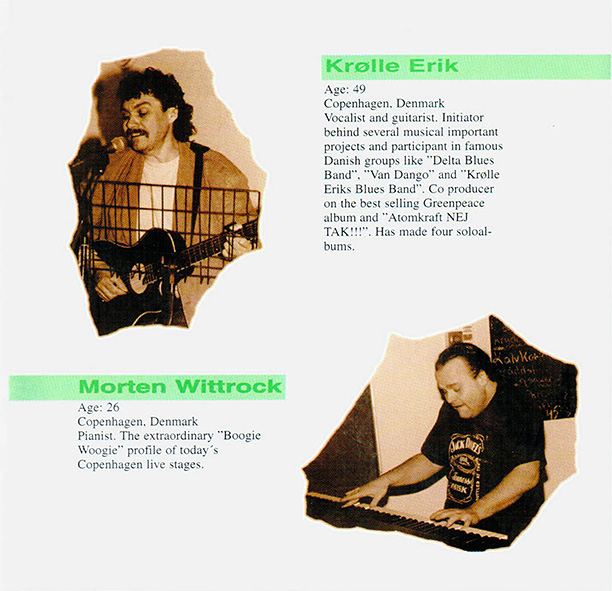 Cover side 4 - Alebo Pensionat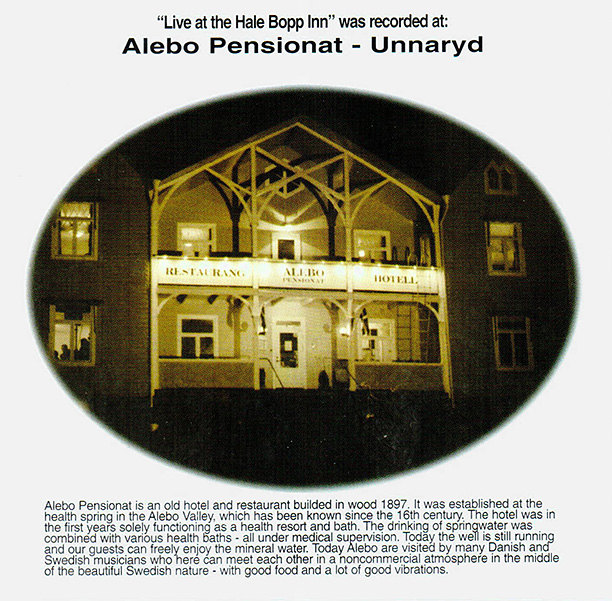 Cover side 5 - Liv Skotte - Jan Overgaard - Stina Andersson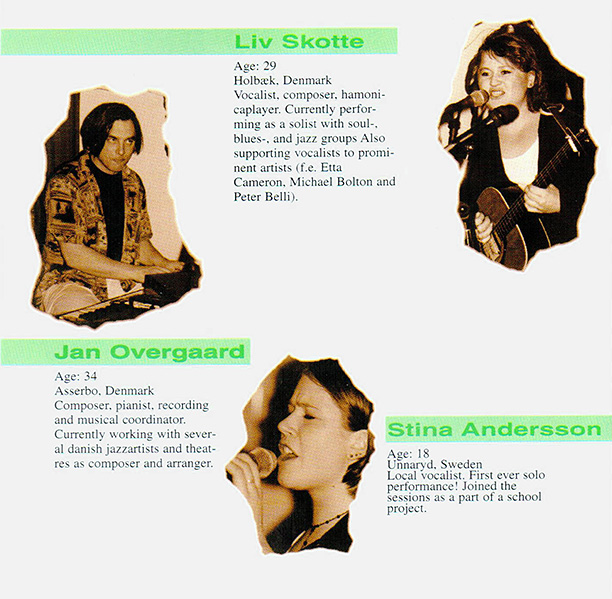 Cover side 6 - What happened in Unnaryd ?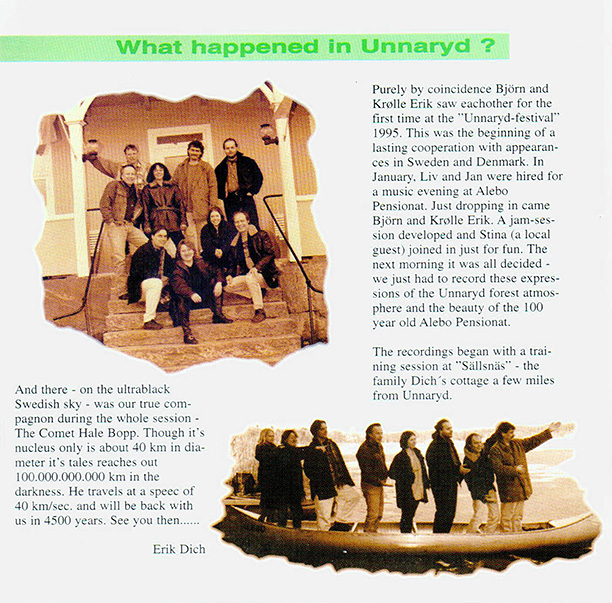 Cover bagside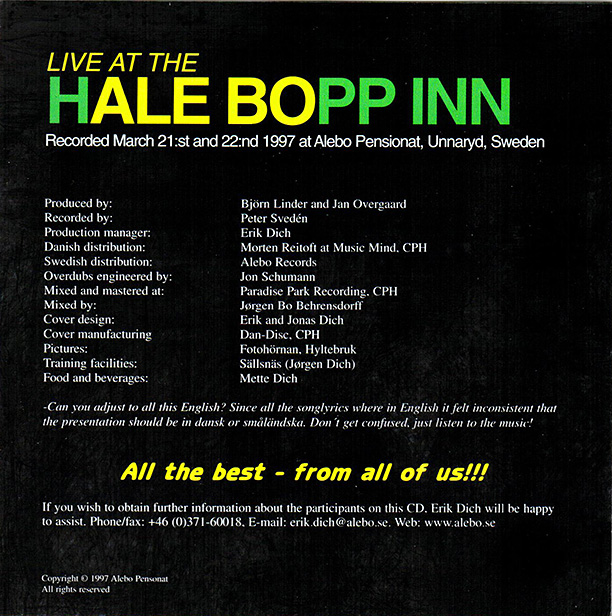 Musikken:
Introduction
Presentation by Björn Linder
Aint got wings
(Skotte / Overgaard / Engmann)
Vocal, harmonica: Liv Skotte - Piano, arrangement: Jan Overgaard - Guitar: Björn Linder

You're my baby
(Skotte / Overgaard)
Vocal, harmonica: Liv Skotte - Keyboard: Jan Overgaard
House of the rising sun
(Traditional)
Vocal: Liv Skotte - Keyboard, arrangement: Jan Overgaard
Calm surface ripple
(Linder)
Guitar: Björn Linder - Keyboard: Jan Overgaard
Blackbird
(Lennon / McCartney)
Vocal: Liv Skotte - Guitar: Björn Linder
Morning Star
(Skotte)
Vocal, harmonica: Liv Skotte - Guitar: Björn Linder - Keyboard: Jan Overgaard
Yakety axe
(Randolph / Rich)
Guitar: Björn Linder - Piano: Jan Overgaard
In the midnight hour
(Picket / Cropper)
Vocal: Stina Andersson - Add. vocal, harmonica: Liv Skotte - Add. vocal, guitar: Björn Linder - Add. vocal, keyboard: Jan Overgaard
Unnen
(Overgaard)
Piano: Jan Overgaard - Acoustic guitar, violin: Björn Linder - Harmonica: Liv Skotte
My baby left me
(Crudup)
Vocal, guitar: Krølle Erik Andersen - Guitar: Björn Linder
Many rivers to cross
(Cliff)
Vocal: Krølle Erik Andersen - Piano: Jan Overgaard
Wittrock's boogie
(Wittrock)
Piano: Morten Wittrock
San Francisco Bay blues
(Fuller)
Vocal, guitar: Krølle Erik Andersen - Piano: Morten Wittrock - Guitar: Björn Linder
Stealin'
(Cannon / Guthrie)
Vocal, guitar: Krølle Erik Andersen - Piano: Morten Wittrock - Guitar: Björn Linder
Li-l Liza Jane
(Traditional)
Lead vocal, guitar: Krølle Erik Andersen - Add. voc: Stina Andersson, Liv Skotte, Björn Linder - Guitar: Björn Linder - Add. vocal, keyboard, harmonica: Jan Overgaard
© All rights reserved by Erik Dich and the performers