Our kitchen
Food prepared with products of the season
Food and drinks are an essential part of a perfect holiday. The restaurant serves a variety of exiting courses prepared with local fresh products of the season. The kitchen is a mixture of Danish and Swedish cooking with particular focus on natural products from the forest and the lake e.g. moose and fish. All our chefs have approved chef training. This mean that the quality of the food, and the hygene in the kitchen is top notch.
We make it a point of honour that our guests are full when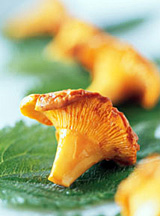 leaving the table, so that they are well prepared for the meeting with the fresh air from the forest and the beautiful nature.